Hooray!  We're back in business with our linky party!  Although I will admit that I enjoyed watching Facebook fill up with wonderful posts last week too!  So you're in for a treat… I will be featuring 5 posts this week to cover the last two weeks!  Oh, what lovely reading you'll have this week to snuggle in with while yet another round of flurries heads our way!  BTW… my mind must've been in the kitchen this week with the various fun kitchen posts picked!  Enjoy!
Now… let's get the mid-week fun going with The Welcome Party Wednesday Link-Up!  This is a place where other fantastic bloggers can come share fun and fresh new ways to makeover your heart and home!  In other words… anything that makes family life easier or more fun is what the link-up is all about!  Each week I'll pick 3 must read posts from the previous week's link-up for you to enjoy!
Posts must be family friendly and can include the topics of…
Mothering
Kid's activities and crafts
Family fun acitivities
Organizing
Decorating
DIY home projects
Marriage
Homemaking
Recipes
Crafts
(Please do not link giveaways, other link ups, and paid product reviews. I reserve the right to delete any links that do not adhere to this requirement.)
If you link up, please…
Include a link to the Welcome Party Wednesday Link-Up, post my button on your site OR add the link party badge to your own posting.  (HTML codes can be found in the sidebar.)
Know that by linking up, you will receive a weekly notification/invitation to join the Welcome Party Wednesday Link-Up.
Quick and Easy Pizza Dough from Hillmade
We love making mini pizzas at our house.  Everyone gets the toppings they like AND it's a fun family activity.  My hubby likes to make the dough from scratch, but its often a lengthy project and we have little ones tapping their fingers anxiously waiting.  So I can't wait to try this quick and easy recipe!  Plus, I love that she freezes them!

Mission Organization – Kitchen Cabinet No. 2 from Style from the Sticks
Holly from Style from the Sticks shares a brilliant way to use her Lazy Susan to organize pots and pans!  I would've never considered this option before now, but I love it!  And it keeps all the pots and pans close to the stove!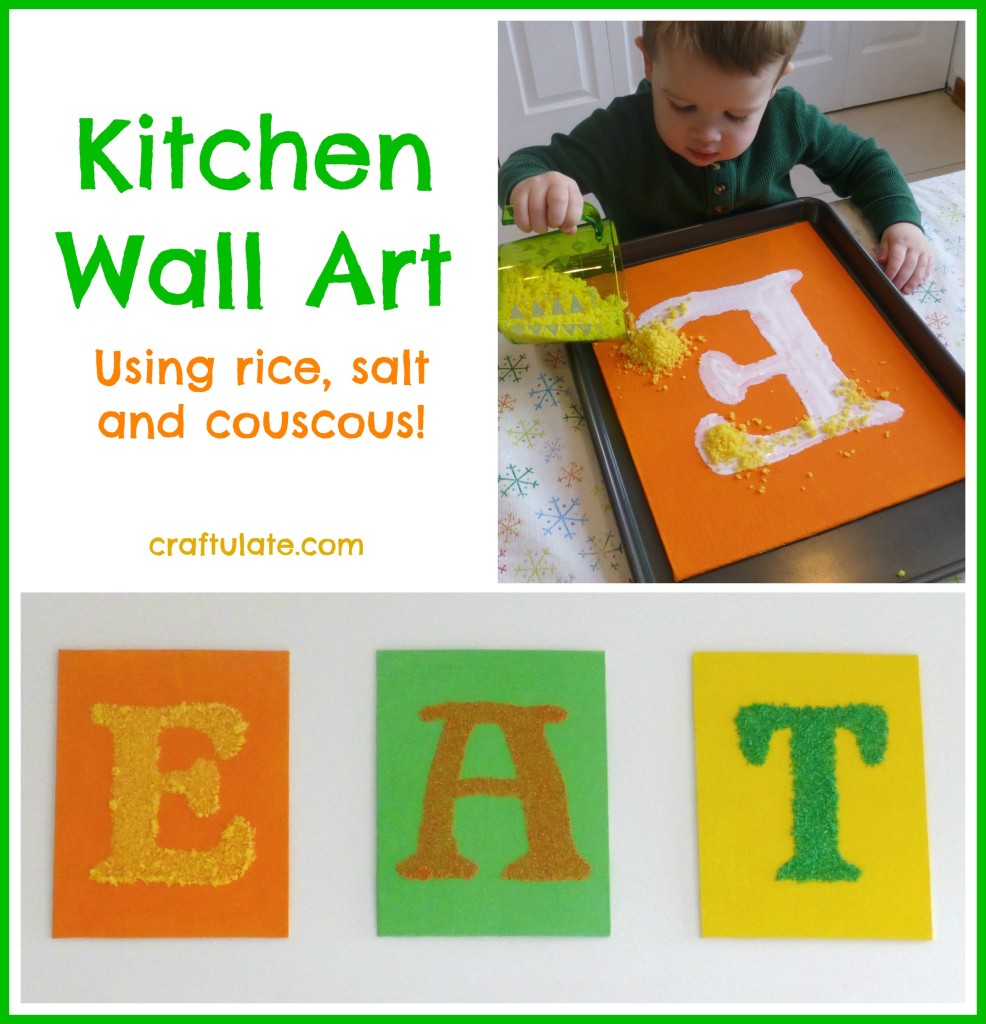 Kitchen Wall Art from Craftulate
To decorate the kitchen, Georgina at Craftulate combines color and texture to make beautiful wall art that is a great splash of color in her kitchen.  And, she was able to incorporate kid activities for her little guy while making this.  So creative!
Exploring Painting with Kitchen Utensils from Little Bins for Little Hands
I absolutely admire moms who aren't afraid of messy play and painting and craft activities.  Me?  I want to run screaming in the other direction!  I'm sure it'd be a blast, but the OCD in me freaks out just at the thought.  I'm slowly getting over myself (in other words, the boys will be about 17 before that happens – sarcasm), but this one looks like so much fun I may have to jump in and go for it.  Make sure you scroll to the end of her post and check out how cool her little guy's artwork is!
St. Patrick's Day Tot School from Every Star is Different
With St. Patrick's Day right around the corner, I had to end with some seasonal fun!  You'll find lots of great ideas here that combine play, fine motor development, and learning… with free printables!  It's like the gold at the rainbow's end!
Let's get this week's party started!